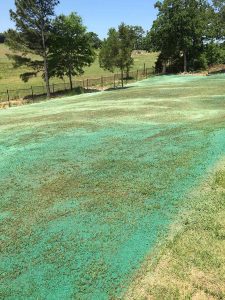 Adequate watering is critical to successful hydroseeding.  For the first 30 days, the ground should remain moist but never flooded with visible puddling.  Factors such as soil type, weather, and ground slope will impact the amount of water needed.  Need Grass Now has the experience to devise the ideal plan for your landscape.   Consistent moisture is necessary not only for seed germination but also for the weeks beyond as the grass takes root.  This generally means watering several times a day.  For this reason, our clients will often need temporary and permanent watering solutions while establishing their grass.  
Need Grass Now works with the best irrigation equipment suppliers in the industry to provide modern, efficient, dependable tools to ensure the best watering experience for our clients.  An irrigation system can be tied into an existing grid, with controlled timing features.  We typically use aluminum or PVC piping that can be easily installed and removed at project end.  A combination of our expertise, equipment and landscape contractors provide a turn key solution with superior results. 
Need Grass Now will coach those choosing to conduct their own watering on the ideal intervals, best times of day, etc. and can provide the supplies needed for those that seek to execute this phase on their own.