Erosion is a natural process where the earth's crust is moved from one place to the next via wind or rain. Generally this process is a slow one taking many years to occur in nature. However, with construction and new home sites this process can happen quickly. There are many factors that can affect how the crust is eroded. From climate to the type of soil and plants, erosion can be detrimental to the environment. In order to control this natural process on construction sites, new home sites, or areas that have already become eroded, see below.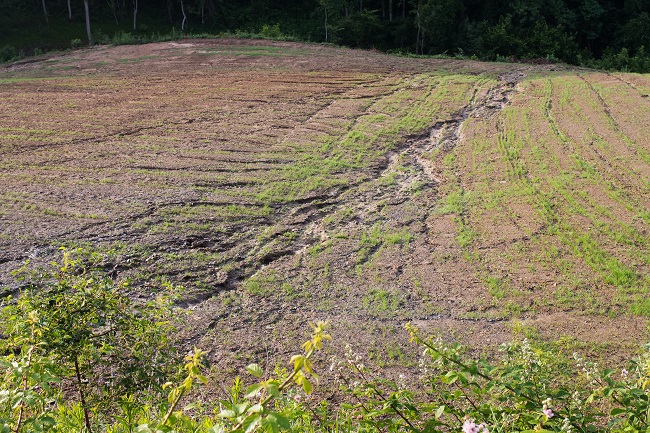 Types of Erosion Control
There are several different ways to control erosion and sediment. After the site has been properly assessed by a professional, recommendations such as  heavy-duty silt fencing, straw wattles, or hydroseeding can be made.
Heavy Duty Silt Fencing
Heavy duty silt fencing is temporary sediment control choice suitable for construction sites so as aid in protecting the water quality for nearby water sources. Silt fencing is an option for low to medium flow areas and must be installed correctly and maintained in order to be effective in erosion control.
Straw Wattles
Straw wattles, made from organic materials, are most effective in areas where the water flow is slow and concentrated. Wattles help to catch sediment and stabilize the area while construction is taking place. Once the wattles are no longer needed they can easily be spread out to assist in turf building.
Hydroseeding
Hydroseeding is considered a very suitable method of erosion control for large areas, slopes, hills, and ponds. This organic "blanket" can be easily applied so as to evenly cover and stabilize the surface. The mixture's ability to bind with the surface soil increases sediment control for the newly graded area. By building the turf with hydroseeding, elements such as wind and rain won't be able to erode away the soil or affect new plant growth.
Contact us at Need Grass Now and let us help you with your erosion control and hydroseeding needs. We are here to provide clients with the best solutions for both residential and commercial projects.